2001.06.01
Takeshi Natsuno: The Incrementalist
Jap@n Inc. (日本)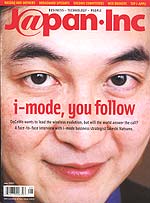 (an excerpt)
IF YOU ASK TAKESHI NATSUNO about i-mode, or if you read his recently published book, "i-mode Strategy", you're likely to come away impressed with his entirely self-consistent vision of how the world's No. 1 mobile Internet service should evolve -- which is no surprise, considering Natsuno is one of i-mode's master architects.

...On i-mode services and features required to build a global base:

Again, this relates to complexity. If I could imagine everything required to build a global base, that would not be faithful to complexity theory. In the past three years in Japan, many things have happened -- many
unexpected things. Take the growth of the entertainment business on i-mode. I didn't expect so much entertainment content could really work on the i-mode platform. And I'm sure we're still missing a lot of business opportunities. As content providers buy in and create more complexity all over the world, I'm sure many people will start to find their own content niche.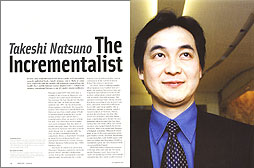 A good example is ImaHima. The ImaHima founder is originally from India, I think, but he found a new niche area on the i-mode market. [Note: ImaHima is a social networking, dating, and matchmaking service on i-mode.] His viewpoint is totally different from the Japanese one. Oh, sure, he's a good Japanese speaker, but his viewpoint is different from most Japanese, who tend to think, 'It's very bad to do something different from others.' That's why we've aligned with AOL. I'm getting a lot of feedback from the AOL people; they are getting a lot of feedback from me. All this interaction continually contributes to i-mode's growth. That is the power of Sony -- that is the power of a global company, right? If we speak only to Japanese people, we're not going to be so successful. We have to be global. That's what all industries have already discovered. That's what makes the Net very interesting.

On Our Radar Screen

ImaHima Inc
www.imahima.com

Founded in 1999 by ex-Goldman Sachs analyst Neeraj Jhanji, ImaHima ("Are you free now?") is a socializing and scheduling service enabling mobile customers to locate and contact friends, schedule parties and events, meet new people, and find information and activities based on their current location via mobile phone (the service is now accessible from PC as well). Jhanji was one of the first foreigners to approach DoCoMo about setting up a social networking and meeting service for i-mode, but he was shown the door when it became apparent that ImaHima could also be used by ax-murderers and the like to meet up with unsuspecting victims (i-mode's handlers were hypercautious about safety and security in the service's earlier days). Undeterred, Jhanji went ahead and launched as an unofficial site, which quickly racked up users in the low tens of thousands based on word-of-mouth marketing. Since then, Jhanji has found a way to make the service acceptable to the nannies over at i-mode and has launched Version 2.0, which features more sophisticated personalization tools and a searchable directory, as an official i-mode site. ImaHima is now on all the Japanese mobile Webs, and is looking at expanding into Europe in WAP and SMS versions, spurred in part by some capital kicked in from AOL; the venture claims 250,000-plus users and more than 1 million page views daily. Next time an Indian national in Tokyo who doesn't speak much Japanese offers you a low-paying job in a startup that has no revenue and no marketing, say "Yes" - like ImaHima, that venture may be going somewhere.